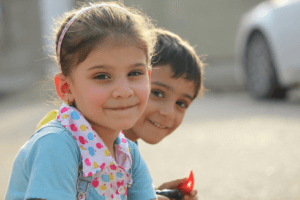 LET'S GIVE A HURTING CHILD CAUSE TO SMILE IN 2020!
When a parent is incarcerated, the child is separated from a primary source of security.
According to a U.S. Department of Justice report, since the war on drugs began in the 1980s the rate of children with incarcerated mothers has increased 100% and the rate of those with incarcerated fathers has increased more than 75%. The impact of parental incarceration commonly manifests in increased antisocial behaviors in their children, including severe depression and a greater potential for substance abuse, criminal activity and suicide. The Centers for Disease Control states that these children are more likely to drop out of school.
Friends Outside Los Angeles County is the longest-running and arguably the most cost-effective nonprofit organization serving area families impacted by incarceration.
An estimated 75,000 children in Los Angeles County have an incarcerated parent. But, the good news is that research shows that these children are more resistant to negative outcomes when there is a sustained bond between parent and child and a network for social and financial support.
Established in 1972, our multi-award-winning organization invests nine of every ten dollars directly into services (IRS Form 990, 2018). Each year, we serve approximately 300 children and their incarcerated or formerly incarcerated parents to strengthen their bonds and their social and financial support. Our programs include the Incarcerated Parents Project, an after-school program, a family support group, and the Dads Back! Academy, which builds fatherhood skills and provides reentry employment assistance. 65% of the fathers we assisted through our recent U.S. Department of Labor grant obtained employment. Only 7% returned to prison.
Our services culminate each year with the Thomas Fleming Rhodes Memorial Holiday Party that the children love! I will never forget a comment from one smiling child who exclaimed to me, "This is the first fun thing I have done with my family this whole year!"
At Friends Outside Los Angeles County, caring is contagious. The more caring people who provide support, the more caring support we can provide to families, giving hurting children cause to smile.
Won't you join our 2020 Care Team and make a generous donation now? We promise to honor how much you care, not just with a note of thanks and a periodic performance update, but also by responsibly managing every dollar to maximize your return on investment while putting smiles on the faces of these children. Thank you!
Sincerely,
Mary Weaver
Executive Director