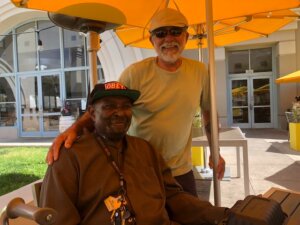 Friends Outside in Los Angeles County Case Manager, Samuel Spicer, JR., 1992 – 2008
I was quite saddened to hear of the unexpected death of Sam who was special in many ways. A colleague once told me that Sam had the best people skills of anyone she ever knew. And, that was where the specialness began.
Sam's family moved from Mississippi to Los Angeles when he was young, such was their fear that a little black boy would not grow to adulthood in the deep South. Perhaps that is why Sam was so much in tune with people's suffering. He told me how he would drive down Century Boulevard on his way to his office in Watts, often followed by a string of cars. No, he wasn't giving out dollar bills. People were after that rare commodity of kindness, patience, and genuine intentions to help them. Sam declared to me that we had to start an employment program for parolees. I said, "They already have that service in the parole offices." He responded that they helped parolees find employment but that they were not helping them prepare for employment. That conversation resulted in the creation of our re-entry employment program, the oldest one of its kind in LA County. A few years later, Sam said to me in a distressed voice, "We have to do something for the fathers coming out of prison. They are so desperate to find their children that they are looking for them under bridges!" That conversation resulted in the creation of our largest program, the Dads Back! Academy. Not many people can see a need and know how to fill it. But Sam did.
Our Founder Martha Jane Dowds loved him deeply, too. Her son Curtis told me about their last visit with Sam. Martha Jane's voice was weak from post-polio syndrome and years of use. Sam's voice was weak from a debilitating stroke. As they were parting ways, Curtis was helping Martha Jane maneuver her wheelchair over the bumpy sidewalk and uneven grassy strip in the parkway between the sidewalk and the curb. As Curtis tells it, "Sam saw the problem of getting mom in the car, picked her up in his arms, and gently deposited her in the passenger seat of the car. It was such a beautiful gesture."
I appreciated Sam for the talents he brought to FOLA. But, for most people, I think it was something different. It is said that "People don't remember what you did. They remember how you made them feel." Even though he has not worked for Friends Outside LA since 2008, I am asked at least two or three times a year "Whatever happened to Sam? " When I saw him for the final time earlier this year, I teased him that I would be long gone and forgotten but that people would still be calling the office and asking, "Whatever happened to Sam?" And, I meant that with nothing but admiration.
Mary Weaver
Executive Director,
Friends Outside in Los Angeles County